Medium multifamily properties are more energy- and carbon-intensive than larger ones.
Published January 22, 2020
NYC's 2020 benchmarking data set provides the first-ever look at medium (25,000-50,000 square feet) buildings' energy use and emissions, and reveals that medium multifamily properties are more energy- and carbon-intensive than larger ones. With higher fuel use driving these numbers, many medium buildings will have to tackle on-site fuel combustion to meet Local Law 97's emissions limit.
Like their larger counterparts, 9,000 medium properties must now report their energy and water use. About 5,400 provided usable 2017 data, representing 31 percent of all benchmarked properties. Since multifamily housing accounts for the majority of new records, we focused our analysis on this sector.
Medium buildings: Old and inefficient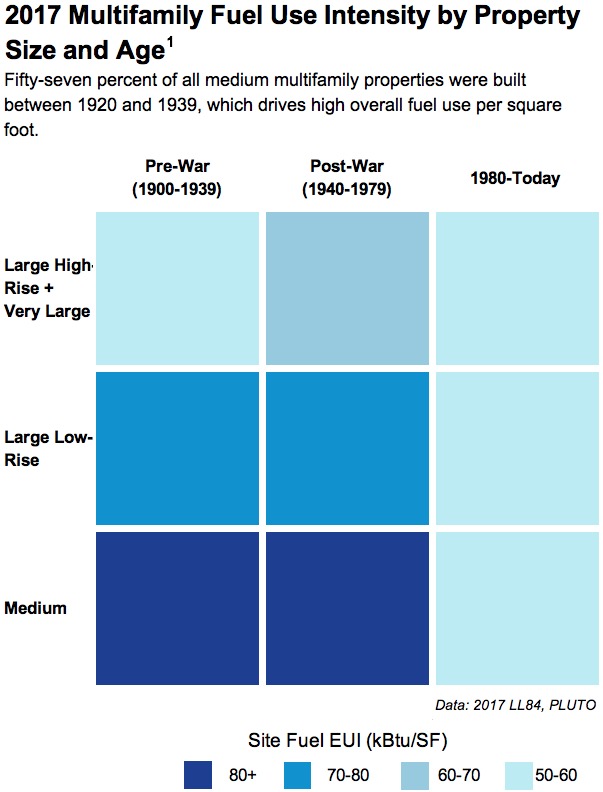 Medium multifamily properties are burning a tremendous amount of oil and gas onsite; we found that they have the highest fuel energy use intensity of all benchmarked multifamily properties. This trend is strongest in NYC's numerous prewar buildings (those built before 1940). Further research is needed to reveal why this trend exists and what best practices are needed to help these properties reduce fuel use.
Buildings
Because of their high fuel use, medium multifamily properties also use more energy overall. This difference is most notable between medium and large low-rise properties (under 7 stories), which are similar in age and height. Medium multifamily properties typically use 134 kbtu/SF of source energy while large low-rise multifamily buildings use 120 kbtu/SF. That means they're using 12 percent more energy to serve essentially the same purpose, resulting in higher greenhouse gas emissions.
This disparity has significant consequences: a higher proportion of medium multifamily properties are above LL97's 2024 and 2030 emissions limits. With more than a quarter of these properties currently exceeding the 2024 limit, owners must act promptly to avoid steep fines.
Using LL97's carbon coefficients for 2024-2029, we found that for:
Medium multifamily properties
27 percent are currently above the 2024 emissions limit
77 percent are currently above the 2030 emissions limit
Large multifamily properties
17 percent are currently above the 2024 emissions limit
74 percent are currently above the 2030 emissions limit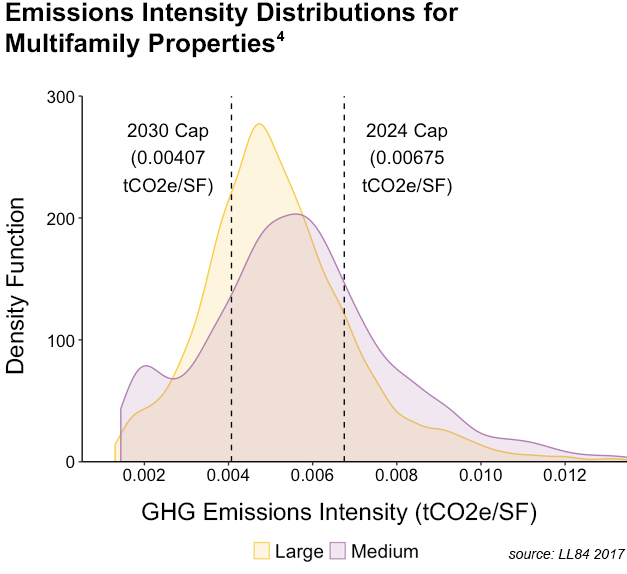 Medium properties may use more energy and emit more carbon because they often lack full-time operations staff and have old building systems. In many of cases, these buildings may only need to make simple, low-cost changes to lower fuel use. Heating system maintenance and upgrades, like the recommendations found in our Demystifying Steam report, should be at the top of the list.
In addition, the typical apartment in a large multifamily property is 20 percent larger than in a medium one, despite having the same number of bedrooms. This suggests that medium properties have higher occupant density, which could partially explain their higher energy use. More research on actual occupancy data is needed to confirm this relationship.
No matter the cause, it is clear that many medium multifamily properties will have to reduce fuel use to meet LL97's emissions caps. With this new data in hand, owners can tackle onsite fuel use through operations and maintenance and systems improvements to save money, reduce emissions and improve tenant comfort.