Heat pumps will change electricity demand in NYC.
Solving climate change requires drastic carbon reductions. For buildings, this will mean shifting from fossil-fuel heating systems to all-electric ones.
There's growing consensus that electrifying buildings is necessary, but less certainty about when buildings should electrify and whether our grid can support this large-scale transformation.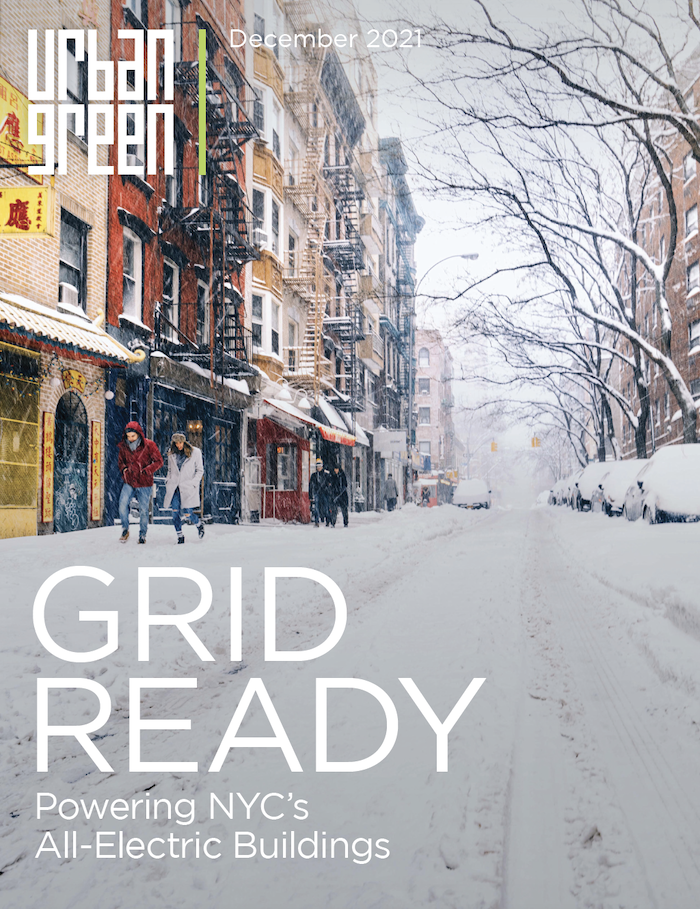 How much room is there to electrify?
Building electrification poses no immediate risk to the grid, and NYC's winter power demand could grow by 42 percent before exceeding summer demand.
Almost every network area of NYC has at least 100 MW of capacity to electrify heating and hot water.
Residential communities in outer boroughs will likely be the first to see winter demand exceed summer.
If energy efficiency and demand flexibility upgrades are integrated with heat pumps, almost half of NYC's building area could electrify before the winter peak crosses the summer peak.
Our 2021 Grid Ready report sheds light on how power is delivered to NYC, examines how heat pumps will change electricity demand in buildings and shows how electrification can be rolled out to carefully manage increasing demand.
We used energy models to predict power demands based on actual monthly energy use and found that almost half the citywide building area could be electrified before NYC's peak power demand shifts from summer to winter. This means that we can accommodate near-term electrification, with room to grow.
You can also explore our interactive map and examine various electrification scenarios and their effect on peak power demand throughout the city.
Room to grow
On average, NYC's peak power demand is over 40% higher in summer than winter. And colder temperatures allow the grid to carry more power, offering extra capacity to electrify heating in buildings.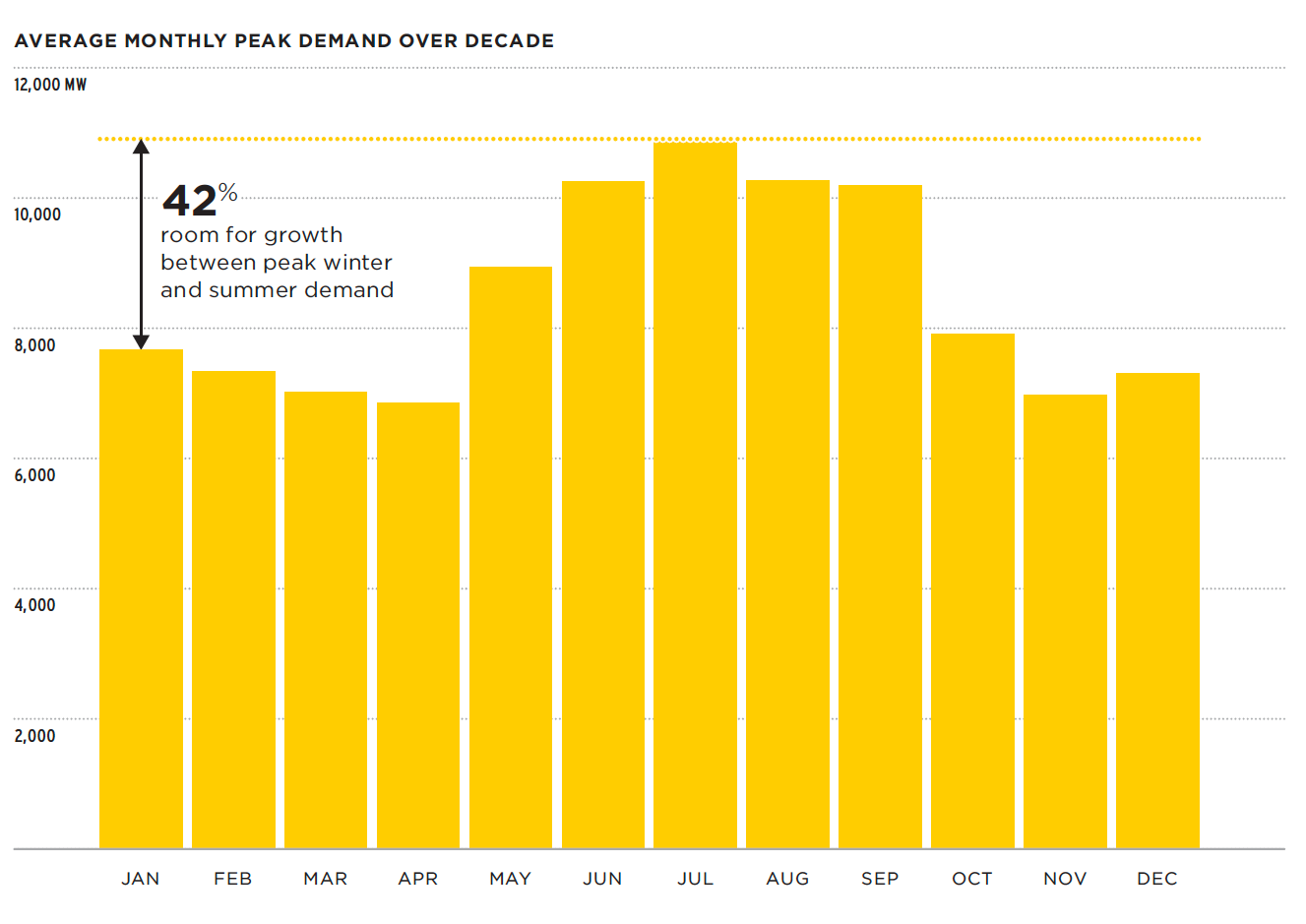 Citywide building electrification will eventually shift NYC's peak power demand from summer to winter while significantly raising the peak. But it won't happen all at once, and so far, the pace of electrification has been glacial. The good news is that utilities and their customers have plenty of time to adapt to these new peaks.
Other energy upgrades can keep demand increases manageable
Electrified heat and hot water everywhere will mean the heaviest grid congestion is likely to occur in January mornings rather than July afternoons. These loads will have to be served efficiently and shifted to other times to keep that peak manageable. Affordable energy efficiency and demand flexibility measures—like roof insulation, large hot water tanks and smart thermostats—are highly effective at shaving peak demand and should be used in tandem with heat pumps.
Projected power demand: Prewar low-rise multifamily building
Prewar multifamily low-rise buildings use very little electricity today, so their power demands will expand substantially. Efficiency and flexibility measures will be crucial for this type of building and would cut their electrified peak power demand in half.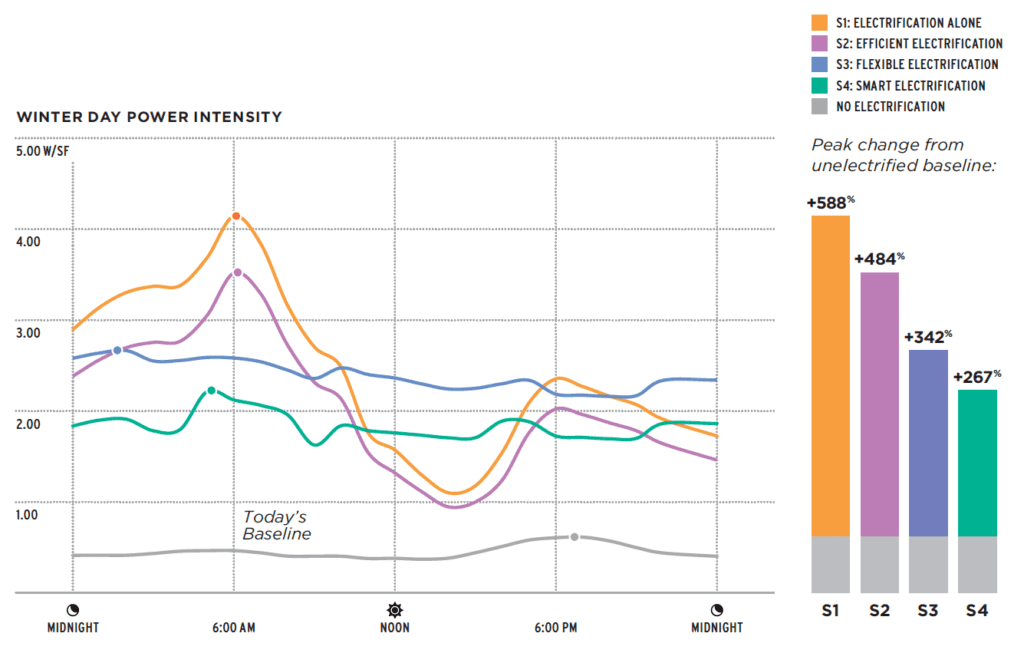 Heat pump installations should be tracked citywide
A winter peak will likely occur once 30 to 40 percent of citywide building area has been electrified. That isn't anticipated to happen statewide until after 2035, but parts of the city will flip their peak season sooner. This will likely occur first in residential areas of the outer boroughs, especially in areas with many low-rise residential buildings. Tracking electrification would also highlight areas where infrastructure upgrades and governmental programs may be needed to ensure the proper resources are in place to keep pace with electrification.
Related work
A look at where Grid Ready meets NYC's Environmental Justice Areas.
Groundbreaking legislation phases fossil fuels out of new construction starting in 2024.
Making New York's electric grid less reliant on fossil fuels will require changes to electricity generation, transmission and distribution.