A collaboration between NYC's leading building and energy stakeholders to develop smart climate change policies.
First convened by Urban Green in November 2017, the 80×50 Buildings Partnership set out to develop recommendations for New York City on the optimal design of a policy to reduce building energy use.
Existing buildings are the biggest piece of NYC's carbon pie, representing over two-thirds of emissions. Their energy use must be addressed in order for NYC to meet its target of 80 percent carbon reductions by 2050. Reducing energy use in the city's largest buildings—those over 25,000 square feet—is an effective first step, as they account for nearly 60 percent of the city's building area.
Urban Green brought together more than 40 organizations under the Partnership. The group tackled the complex questions bearing on this challenge, including costs, technological feasibility, health impacts, industry expertise, state policy and more. We also shared our findings with the City Council along the way.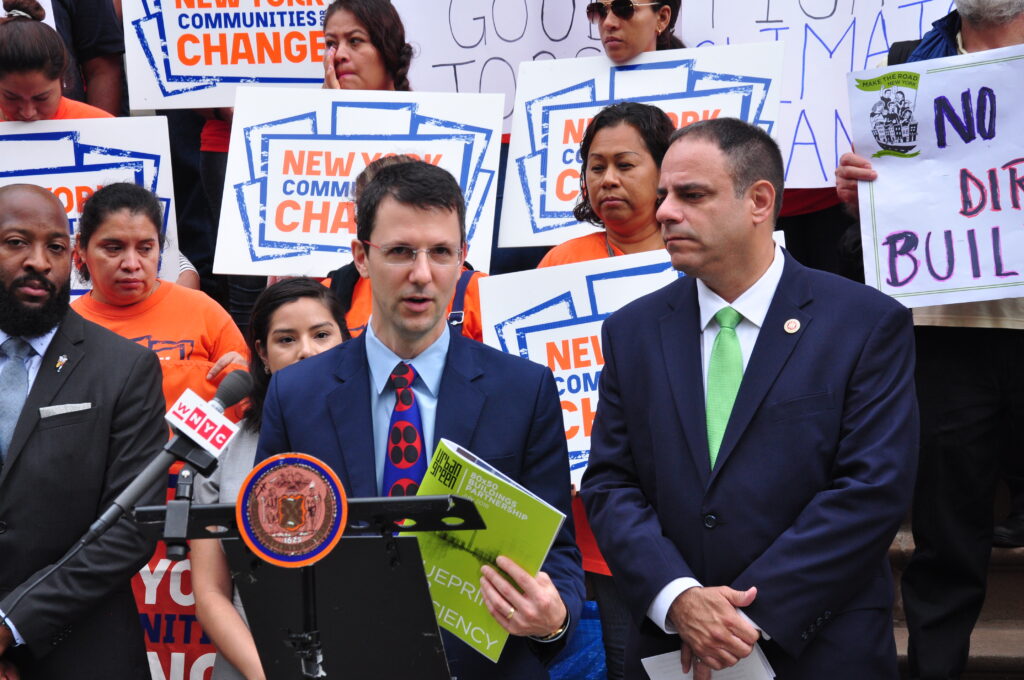 Work progressed through different phases: defining the problem, determining and assessing the options, and refining recommendations. The Blueprint for Efficiency was issued in August 2018.
In May 2019, New York City enacted Local Law 97, the most ambitious climate legislation for buildings enacted by any city in the world. LL97 reflects many elements from the Blueprint, including a whole building performance standard, phased and feasible timelines, flexible compliance options, and future refinement through an advisory board process.
The Blueprint will continue to help inform and shape policy that works for all and sets a model for cities across the nation.
The Partnership's first report introduces an ambitious, 21-point plan to reduce NYC building energy use 20 percent by 2030.