Bringing buildings to life through automation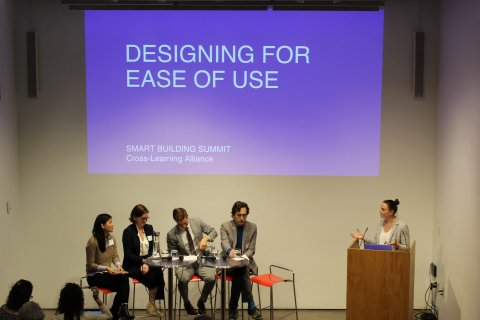 Published April 17, 2019
During the sold-out Cross-Learning Alliance event in April 2019, building professionals from across the industry took a day-long deep dive into how automation can improve energy performance and tenant wellness. This Smart Building Summit exemplified what is possible when NYC's leading architecture, engineering and sustainability practitioners bring their complementary expertise together.
The event's kickoff keynote from Steve Friedman (Memorial Sloan Kettering Cancer Center), highlighted the day's major themes: integration and tenant experience. Friedman emphasized the need for a holistic approach to energy efficiency improvements, connecting building systems and operators. He also highlighted the value of user input and explained the importance of being proactive, rather than reactive in responding to tenants. These key themes reverberated throughout the Summit.
Enhancing the user experience
Sensors and controls can make our buildings more efficient. But smart building designers are going further, transforming buildings to enrich the user experience and improve occupant health, comfort and enjoyment.
In the first panel session, Designing for Ease of Use, panelists emphasized that occupant experience is the most important aspect of a smart building. Michael Schneider (Gensler) discussed how digital experience design can drive engagement with people in a space. For example, displaying graphics representing live building conditions allows tenants and operators to understand and successfully engage with smart building technologies.
Gabriel Peschiera (JB&B) and Angela Mu (Weill Cornell) brought the discussion back to basics: the building operations staff. They agreed that maintenance staff must be involved in smart building implementation from the start because they will be the first responders when issues arise. Weill Cornell has been a leader in building system training, partnering with Urban Green to offer specialized GPRO training to facilities staff.
Smart retrofits add value
The morning's second panel looked at how to make existing buildings smarter, a challenging task since old building systems were not designed with sensors in mind. Panelists Samantha Pearce (Bright Power) and Dave Unger (Sentient Buildings) have worked together to bring these technologies to multifamily buildings. Despite the higher costs, the value is immediately clear to Pearce. She's seen sensor and control installations pay for themselves in a single day by avoiding catastrophic equipment failures—like a water leak that could have damaged electrical systems. Likewise, Unger sees sensors and controls adding value for the owner. For example, a digital thermostat that allows on-demand heating and cooling can be a big selling point for future buyers. Per Michael Bobker (Building Performance Lab at CUNY), smart Building Management Systems (BMS) add value when they learn from component failures and create system rules that can easily alert operators of similar problems in the future.
Are smarter buildings healthier?
Sustainable smart design isn't just about optimizing energy efficiency, it's about incorporating wellness measures into buildings. The first afternoon session explored how a focus on wellness can promote successful building automation. Designing automation for end-users, including building operators and tenants, ensures that smart design investments have benefits beyond financial savings.
Air quality is a very important aspect of tenant wellness. Gordon Sharp (Aircuity) explained how demand control ventilation can provide good indoor air quality to occupants while delivering substantial energy savings. However, Sharp warned against faulty carbon dioxide sensors: over 80 percent of sensors overreport the amount of indoor CO2, causing an oversupply of outdoor air. To address this, Sharp was adamant that building operations staff are well-trained on automated systems to ensure sensors are regularly calibrated.
Another key pillar of the wellness movement is circadian lighting design. Kenneth Douglas (Horton Lees Brogden Lighting Design) explained how light influences the human experience by synchronizing our body's internal clock, or circadian rhythm. By adjusting the lighting to fit with these rhythms, buildings can promote alertness, digestion and sleep.
For all wellness technologies, there is no universal design standard. Wellness design and priorities can be very different depending on building occupants. For example, Zach Craun noted that COOKFOX had to develop its own WELL scorecard for an assisted senior living facility. Some WELL requirements, such as daylighting and encouraging the use of stairs, would have been detrimental to these tenants.
The Summit's resounding theme was that collaboration is key. To successfully and effectively implement smart building technologies, designers, owners, building operators and tenants must all be involved and engaged. This will result in effective building automation implementation, and improved energy performance and tenant wellness.