Resiliency was front and center at our 2018 conference.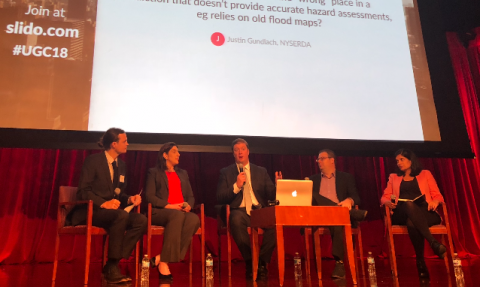 Published October 31, 2018
"How many people think not investing in resiliency is nuts?"
Nearly everyone in NYU's Eisner & Lubin Auditorium raised their hand.
This question was posed at Urban Green's 2018 conference, Weathering the Storm: The Intersection of Finance and Resilience. Now, of course, the audience at the October 18 event may have been a bit biased, but the conclusion was compellingly reinforced by the two interdisciplinary panel discussions of the morning. Experts spanning the finance, science, policy, and real-estate industries weighed in on the need to integrate resiliency into NYC's built environment, from start to finish.
What is resiliency?
Like "sustainability," resilience suffers from environmental-buzz-word syndrome: it's overused, incorrectly used, and often misunderstood. Resilience refers to the ability to bounce back from extreme stressors. When a natural disaster hits, it refers to a community's ability to continue functioning, which requires structures to stay standing and energy systems to keep working. Consequently, resilient systems must be tailor-made for their setting and the stressors they may face. Moderating the first panel discussion, Lars Lisell (NREL) said it best: you can't just slap a generator on a building and call it resilient.
The cost of inaction
Lisell's panel, Quantifying Resilience, was a nod to the difficulty of capturing resilience in concrete financial terms; how do you put a price tag on what might happen in a hypothetical disaster?
The first is to look at what has already happened. Urban Green's CEO, John Mandyck, opened the morning saying, "Let's start with a number, and it's a big one: $71 billion. $71 billion was the cost of Hurricane Sandy."
This is an enormous cost, but how does it relate to resiliency? Ryan Colker (National Institute of Building Sciences) explained that every dollar invested in resiliency and hazard mitigation yields $6 in future savings to the country. This means a larger investment in resiliency before Sandy could have dramatically reduced that $71 billion dollar cleanup cost.
Quantifying resilience also involves changing how we think about the future. The panelists agreed that we need to stop thinking of these natural disasters as hypothetical. As climate change worsens, extreme storms are getting larger, more frequent, and costlier by the year. We simply cannot afford to continue addressing these disasters responsively rather than proactively. Jainey Bavishi (NYC Office of Recovery and Resiliency) described how New York City has already begun this work, implementing the $20 billion OneNYC resiliency program to rebuild NYC—but more importantly—to reduce our vulnerability to the changing climate.
Chris Wegman (FM Global) highlighted another important part of quantifying resilience: looking beyond monetary loss to business-related costs, such as lost market share, missed growth opportunities, and negative investor sentiment. When a fire or flood hits a factory and production stops, even just for few days, the company doesn't get those days back: competitors carry on and investors take note of their losses. These costs are hard to quantify and insure against, making the need for an alternative and preemptive strategy even more critical.
The underlying message of the session was that we need to tell a different story and talk in dollars, so that people with the power to invest in resiliency better understand the risks.
What's the holdup?
If we know that resiliency is the financially sound choice in the long run, why aren't we seeing more of these investments today? The most apparent answer is the difficulty of quantifying value in specific and convincing-enough terms.
Karen Kedem (J.P. Morgan) reiterated that with limited capital it's a tough sell to make 'maybe down the road if something were to happen' seem like a priority. Getting new equipment, hiring more staff, expanding production – the benefits of all these competing ways to spend money are backed by extensive research, whereas upgrades for resiliency are still seen as an unknown. Even insurance agencies that want their clients to be as prepared as possible and have a vested interest in resiliency cannot offer a clear comparison of cost savings upfront because they can't predict what the market will look like.
At the core of this issue, however, is the disparity between who bears the costs and who enjoys the benefits of resiliency. In the second panel discussion, entitled Making it Happen, the panelists explored the lack of incentives for resilient development. Developers front the costs of implementing resilient strategies, while tenants and property owners benefit from a more stable, safe and durable building. But as moderator and financier Eric Alini described, the job of a developer is to "buy it, build it or fix it up, and sell it." This short lifecycle leaves no time for long-term benefits, so if the appraisal process doesn't value resiliency, neither will developers.
Without a clear financial incentive, the only thing left to motivate developers is morality or mandates, each of which comes with its own caveats. We can hope that a moral obligation would prompt some resiliency efforts, but as long as FEMA shoulders the cost of disaster cleanup, developers can hardly be expected to voluntarily take this on. But Alini warned that if eventual mandates don't operate alongside additional market incentives, they'll be met with fierce resistance.
Learning from the pioneers
So, how do we bring resilience into the mainstream? Consumer demand can drive higher appraisals, and signal to investors that there is money to be made in resiliency. The more success stories to back up this claim, the easier it will be.
The good news is that markets across the country have started to respond: Alini showed how the availability of PACE financing paid for mandated seismic hardening in San Francisco and posited that the same could happen for resiliency projects in New York.
The flashiest examples of innovation were brought by panelists Erin Cabonargi (formerly of real estate firm Sterling Bay) and Frank Norcross (Related Companies). The two projects they shared, Lincoln Yards in Chicago and Hudson Yards in NYC, are both megadevelopments described as a "city within a city" or an "instant neighborhood."
In order to create safety and security, resiliency has been at the forefront of their designs. According to Norcross, development at Hudson Yards has been entirely shaped by its location on top of a working rail yard and its development in a post-Sandy NYC. As a result, the ground floor sits 40 feet above sea level and the development includes a 13.2 MW cogeneration plant to produce electricity on-site, even during a grid outage. The designers of Lincoln Yards are also investigating a cogen plant, as well as river water cooling.
It's worth noting that these two huge developments are outliers in terms of scale and cost—but the hope is that the success of bold, large-scale projects like these will inspire development in other communities.
Back to the basics
One of the biggest takeaways from the conference was best stated by Bavishi: "Resiliency is not just about infrastructure and property, it's about people too."
Whether it is the lives saved from disaster or the livelihoods created by an evolving workforce, resiliency has very real effects beyond a shiny new building. Tenants need homes and offices that provide safety and security, and developers look for investments that offer the same thing.
Twenty years ago, energy efficiency was a question mark—an unknown that few developers could really get excited about. Today, it is a baseline consideration for many developments. Luckily, resiliency and energy efficiency go hand in hand; when a building uses less energy, it's less vulnerable to disruptions—and that's the kind of sales pitch stakeholders need to hear. Resiliency needs to feel familiar and comfortable for people to spend more money on it.
As Bavishi said, "We'll never be done investing in resilience." The trick is making the case to start.