New local laws to offer new insights on how NYC's mid-sized buildings use energy.
Published October 13, 2016
New York's pioneering Greener, Greater Buildings Plan, a suite of energy efficiency laws passed in 2009, received a major tune-up in October 2016, with the City Council unanimously voting to pass three laws to expand Local Laws 84 and 88 to cover mid-sized buildings.
The Greener, Greater Buildings Plan established a 50,000-square-foot building-size threshold for mandatory energy and water use benchmarking under Local Law 84, as well as for commercial tenant submetering and lighting upgrades under Local Law 88. The new legislation lowers that cut-off to include buildings over 25,000 square feet. Beyond building size, the laws also lower the threshold for mandatory submetering of commercial tenant spaces from 10,000 to 5,000 square feet and, for the first time, include common areas of multifamily buildings in lighting upgrades, with both required by 2025.
Just how big will this expansion be? The new laws will add about 10,000 properties to the benchmarking pool, covering nearly 350 million square feet—about the area of all the properties required to benchmark in the District of Columbia. That will bring the total citywide floor area benchmarked under Local Law 84 to an impressive 57 percent.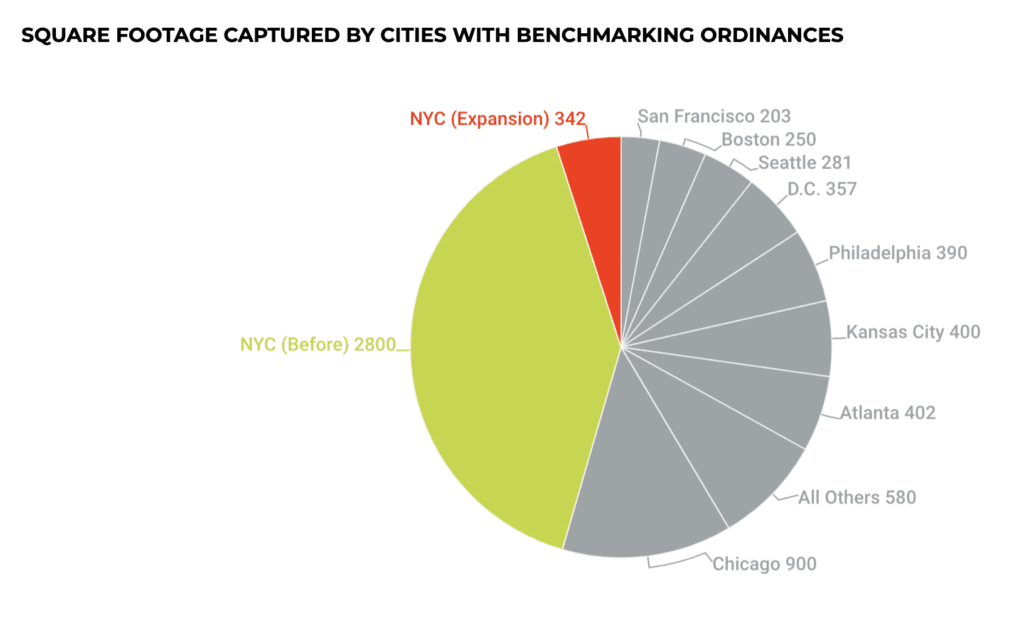 The increase should help unlock greater energy and carbon savings in several ways. Benchmarking prompts around three-quarters of facility managers to make operational improvements and equipment investments, and New York's benchmarked buildings realized 6 percent energy savings and 8 percent carbon savings from 2010 to 2013. Submetering provides crucial information to help tenants manage their energy use. And lighting upgrades will capture the considerable energy benefits of the ongoing revolution in lighting technology.
Critically, the benchmarking expansion comes with a helping hand for mid-size building owners, who often don't have the resources available to large buildings. The requirements for mid-size buildings are triggered only after utilities start automatically uploading benchmarking data to an online tool like Portfolio Manager, which means an easier and cheaper process for owners. Both Con Edison and National Grid recently proposed automatic upload systems for 2017 and 2018, respectively, so mid-size building owners could be benchmarking by 2018. And Urban Green will continue to advocate for automatic upload until it becomes a reality for all building owners in the city. The law also requires the city to provide assistance—trainings, guides, a helpline, or the like – to ensure benchmarking is easy and accurate for building owners.
For more than a year, Urban Green worked with the Mayor's Office and City Council in support of a thoughtful expansion of the Greener, Greater Buildings Plan. New York joins cities like Atlanta, Boston, and Seattle with benchmarking thresholds at or around 25,000 square feet, and with this tune-up the city's core efficiency policy remains the model to beat.
Key takeaways
This legislation:
Lowers the building compliance threshold from 50,000 square feet to 25,000 square feet for annual benchmarking of energy and water use in privately owned buildings (the threshold for city-owned buildings remains the same at 10,000 square feet), as well as for mandatory lighting upgrades in commercial buildings and submetering of commercial tenant spaces by 2025
Exempts certain "garden-style apartment" properties with multiple low-rise apartments that do not share base-building energy systems
Does not change Local Law 87 requirements for audits and retro-commissioning
In addition, a few aspects specific to each bill:
Local Law 133 of 2016: Benchmarking mid-sized buildings
Delays the benchmarking requirement for newly affected mid-size buildings (those between 25,000 square feet and 50,000 square feet) until utilities implement automatic upload of benchmarking data to an online tool like Portfolio Manager, anticipated by 2018
Requires the city to provide benchmarking assistance, and exempts owners of mid-size buildings from violations if they make a good-faith effort to comply and seek that assistance at least 60 days before a benchmarking report is due
Local Law 132 of 2016: Installing submeters in more commercial tenant spaces
Also lowers the compliance threshold from 10,000 square feet to 5,000 square feet for commercial tenant spaces that must be submetered in covered buildings
Local Law 134 of 2016: Requiring lighting upgrades in more commercial buildings
Also extends the lighting upgrade requirements to common spaces in multifamily buildings like hallways and laundry rooms (dwelling units remain exempt)
Further Reading
New York will become the first state in the country to require new buildings to be all-electric. Here's what to know.
Urban Green Council's latest report tackles pressing questions about the state of steam heat systems in New York City.