The Sims Sunset Park Materials Recovery Facility (MRF) in Brooklyn is the largest recycling facility in North America.
Published July 9, 2019
Situated on an 11-acre pier on the Gowanus Bay, the facility is striking: bioswales line the property, the only commercial wind turbine in New York City towers overhead, and the Manhattan skyline is visible practically everywhere you look. But what happens inside is even more incredible.
Urban Green's Emerging Professionals toured the facility and its adjacent Education Center on June 25. The Sunset Park MRF receives 100 percent of the metal, glass and plastic collected by NYC's Department of Sanitation—1,000 tons per day! (Paper is taken to Staten Island, where they often end up as pizza boxes). After arriving by barge and truck, the sorting process begins.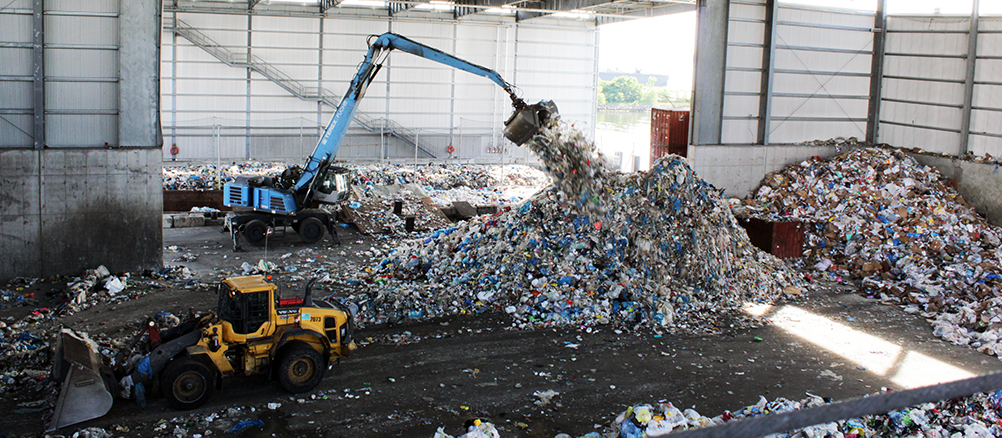 Sorting is almost entirely mechanized, with nearly three miles of conveyor belts, robotic sensors, trommels, magnets and more—making Sims one of the most technologically-advanced MRFs in the world. The Sunset Park facility also has two sets of its sorting system so that operations can continue if one breaks down. Sims claims that their sorting process is 95 percent accurate, producing fairly uncontaminated raw materials. After everything has been properly sorted and packaged, it's ready to be sold to manufacturers and repurposed into new products.
Plastic bottles can (sometimes) be turned into new bottles, or more likely carpets and fabric; metals can be made into cans or parts for boats and bicycles, and glass can be made into jars or used as an aggregate in concrete or construction. Glass, however, is tricky to recycle because its weight makes it expensive and carbon-intensive to deliver to buyers. According to Sims, this difficulty actually makes plastic easier to repurpose into new materials than glass, news that surprised many on the tour.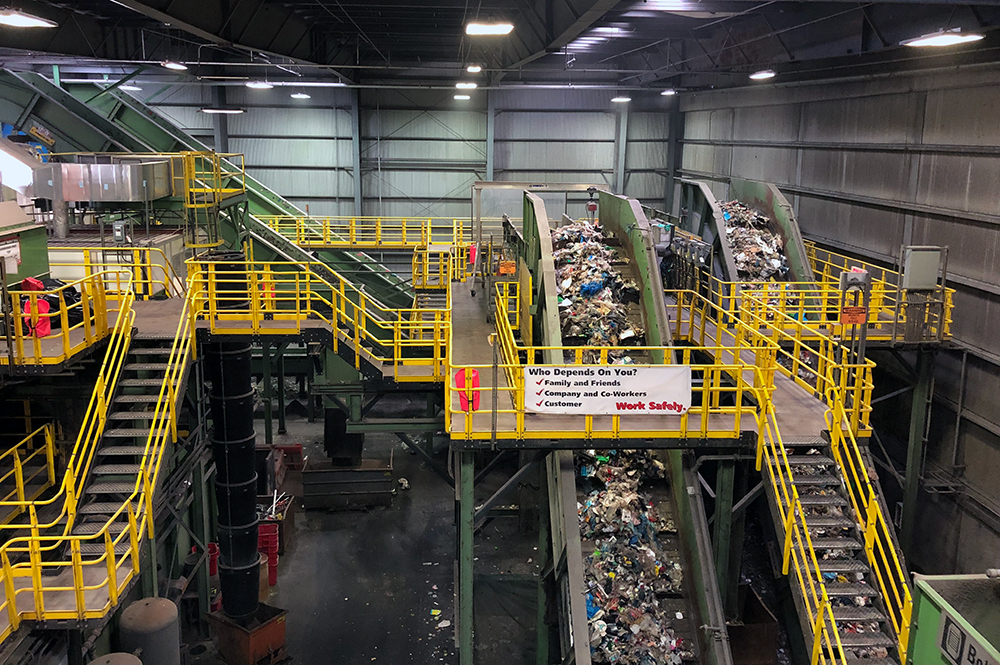 So what can and can't we recycle?
Consumers throw half of all recyclable items into the regular trash, so we should all be putting more into the blue bin. But it's important to make sure that only recyclable materials get sent to an MRF.
Plastic films (think bags and Saran wrap) are a big no-no and should be recycled at specific pickup locations instead. It's also important to note what your local MRF can sort out and sell, versus what will be categorized as waste. For example, "compostable" utensils and cups should be avoided for now because many municipalities don't have facilities to process these biodegradable products yet—even if they have an organics collection program. Fortunately, you don't have to keep track of these details yourself—just type any item into DSNY's How to get rid of… website and they'll tell you how to dispose of it!
While recycling (and doing so correctly) is important, it's not the sole solution for managing our waste. One of the main takeaways of the tour was the even greater importance of the "other Rs"—reducing overall consumption and reusing products as much as possible.