Our 2023 conference looked at three key trends shaping the future of NYC.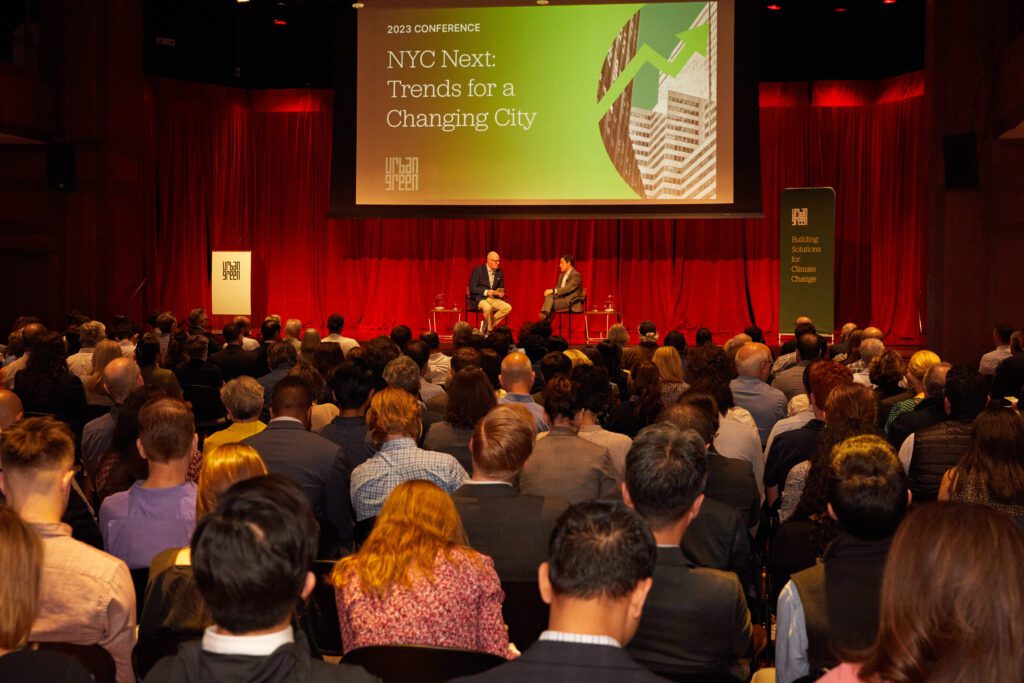 Published June 28, 2023
On June 8, 2023, building practitioners gathered at NYU for our 2023 conference, NYC Next: Trends for a Changing City. Among three panels of leading experts and government officials, the sold out conference was visited by an unwelcome guest as well: historic levels of air pollution and eerily orange skies brought on by smoke from Canadian wildfires. As NYC Comptroller Brad Lander remarked, "We got a smoke signal this week about the urgency of the climate crisis."
Attendees braved these conditions in recognition of the important role of buildings, both as a refuge in the climate crisis and as NYC's best bet for carbon reduction. Speakers explored three key trends that are shaping New York's built environment: reaching net zero, commercial to residential conversions, and investigating resiliency in electric buildings. The event offered a glimpse at the future of the city and how it can respond to evolving climate threats. NYSERDA President and CEO Doreen Harris offered hope, saying, "We're not just talking about a decarbonized future, but a better future."
Navigating net zero
The phrase "net zero" is often used without a standardized or verifiable definition to back it up. Speakers from the first panel discussion, Making Net Zero a Reality, weighed in on the challenges of moving beyond greenwashing and achieving legitimate net zero goals.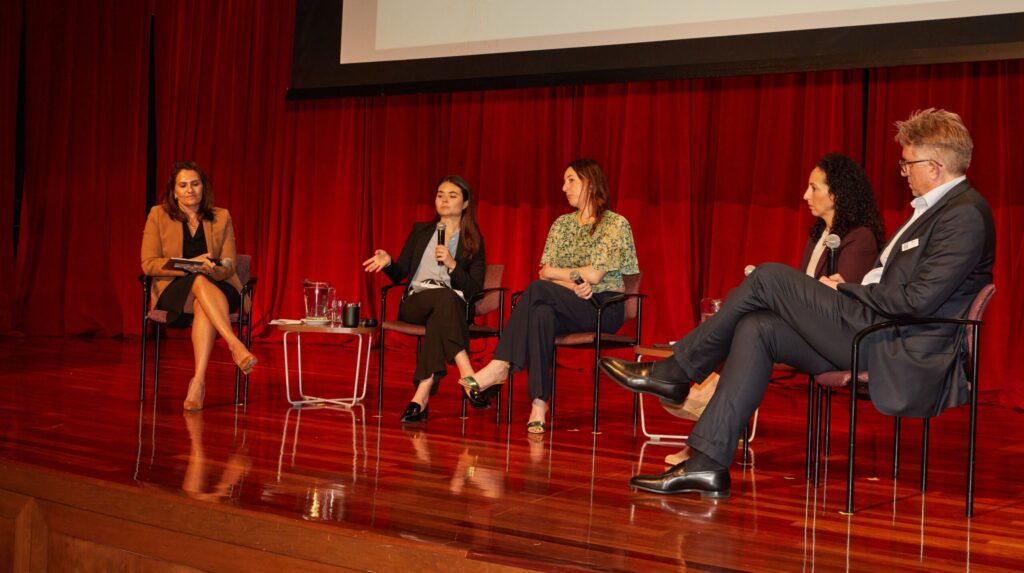 One group attempting to solve this problem is the Science Based Targets initiative (SBTi) who have developed pathways for companies to actually demonstrate and document their work to reduce emissions. Said Paulina Tarrant of SBTi, "Companies should be as transparent as possible. It is less about the claim and more about the substance that backs it up."
Jamie Statter from the NYC Comptroller's Office reported that only 9 percent of companies in their public portfolio have validated SBTi targets, as compared with 80 percent of companies that claim a "net zero commitment." The Comptroller's Office is asking companies to "show us their work," with a goal to have 70 percent of companies using SBTi within two years, and 90 percent by 2030. Panelists predicted another few years of 'messiness' around net zero before global standards start to straighten out and align with broader climate frameworks like the Paris Climate Agreement.
From commercial to residential
In a changing work landscape, many commercial office buildings are being converted into much-needed housing. As Dan Garodnick of the NYC Department of City Planning stated, "We're in the middle of a housing crisis…and we have an 18 percent vacancy in commercial buildings. Conversion to residential is a lifeline for underperforming commercial buildings."
Experts in the second panel, Sustainable Conversion: Commercial to Residential, discussed the unique obstacles impeding these conversions and how to keep sustainability and affordability at the forefront of the process. Building age, geographic location, zoning laws, and design challenges are just some of the factors that practitioners need to navigate.
One piece of good news is that the electrical infrastructure in commercial buildings is likely sufficient for full electrification in residential conversions. The cost of these conversions tends to drive the development of luxury buildings instead of affordable housing, so panelists agreed that policy changes and additional tax incentives are needed to drive these retrofits and keep them affordable.
Thinking differently about resiliency
In the final panel of the day, Resiliency Actions for All-Electric Buildings, experts discussed the evolving definition of resilience and the need for greater industry expertise to stay ahead of the curve. Unlike decarbonization, the elusive goalpost for resiliency moves alongside changing climate conditions that are often sudden and unprecedented. For example, over the last three years building practitioners have focused on bringing in as much outdoor air as possible to combat the global pandemic. But overnight, as wildfire smoke traveled down to NYC, that priority was flipped on its head. A resilient building now looks like one that can respond to both conditions.
As Fiona Cousins of ARUP explained, "Sustainability is planning for the long term as if nothing will change. Resilience is planning for the long term as if everything will be subject to a disaster. What they share is needing to plan for the long term." As New York phases out fossil fuels in new construction, the resiliency of all-electric buildings becomes an important design and construction consideration. The panelists agreed that practitioners need to understand climate risk and get more comfortable speaking about it, because the industry will be held accountable for resiliency decisions, and soon.
"Sustainability is planning for the long term as if nothing will change. Resilience is planning for the long term as if everything will be subject to a disaster."

Fiona Cousins
Both the problem and the solution
Urban Green CEO John Mandyck remarked how, in terms of carbon emissions, buildings are the problem in NYC. The flip side of this reality, however, is that buildings will also be the solution. There are very real challenges to reaching net zero, converting buildings to new uses and planning for resiliency. But all three panels emphasized that it's possible to achieve decarbonization in the necessary time frame while adapting to a changing world and climate. These trends demonstrate that the building landscape is evolving fast in NYC. Whether it's a literal smoke signal from blazing wildfires or a better understanding of how to make buildings efficient and resilient, one thing is for certain: it's imperative that we pay attention and prepare for what's next.
At our 2023 conference, we brought together experts to explain three key trends that will shape the future of NYC.
Urban Green's annual conference brings together experts and leaders from all corners of green building.