Honoring the life and legacy of Héctor Figueroa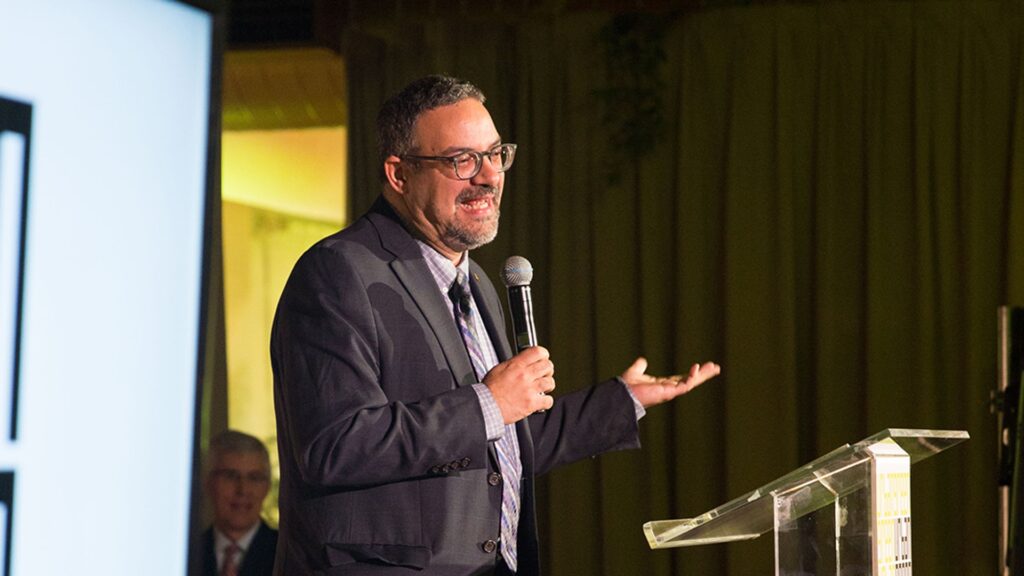 Héctor Figueroa, former President of SEIU 32BJ, was a seminal figure in the life of New York City, fighting for a healthy, sustainable future and good jobs for working people. And he did it with compassion, grace and a knack for bringing people together.
We were fortunate to have worked with and learned from Héctor, who also served on the Urban Green Board of Directors for three years. He made an indelible impression on all who met him and also left an incredible legacy, one we memorialize with the Héctor Figueroa Leadership Award.
The award is given annually to individuals who are:
Sustainability champions at the city, state, federal or international level;
Change-makers who bridge divides to reach consensus;
Dedicated to the common good.
Priority consideration given to diverse candidates and women.
Recipients
2023: Derrick Lovett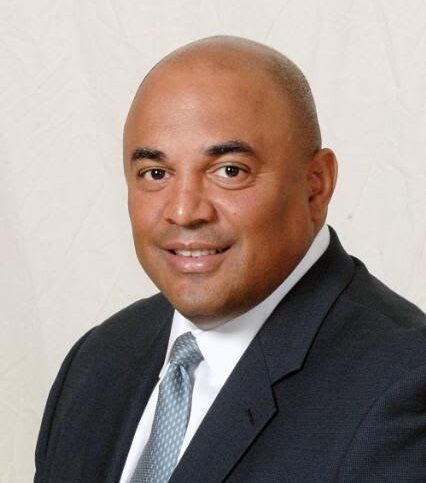 Urban Green Council is delighted to present the Héctor Figueroa Leadership Award to Derrick Lovett, President and CEO of MBD Community Housing Corporation, which he has led for over 14 years. Over four decades, MBD has successfully sponsored, built, and renovated over 3,500 units of affordable housing in the Bronx.
This past November, MBD and partners officially opened 425 Grand Concourse, a one-of-a-kind, 26-story high-rise building comprising 277 affordable apartments and holistic, community-centered amenities designed to serve the Mott Haven community.
425 Grand Concourse is the largest Passive House project in North America and includes an educational facility, health clinic, supermarket, cultural space, and other community amenities.
MBD also sponsored the construction of the New Horizons Shopping Mall, which created over 200 full-time and part-time permanent jobs with retailers including Pathmark, AJ Wright, IHOP, Game Stop, and Subway.
MBD will continue to have a positive impact in the Bronx through the development of clean affordable housing, support to its seniors, and social services for community residents.
Lovett serves on the SEIU 32BJ Training Fund Advisory Board and is a graduate of Fordham University. Prior to MBD, he held senior lending positions at Citibank and JPMorgan Chase. He also served our country as a member of the United States Marine Corps.
---
2022: Seanelle LeeSang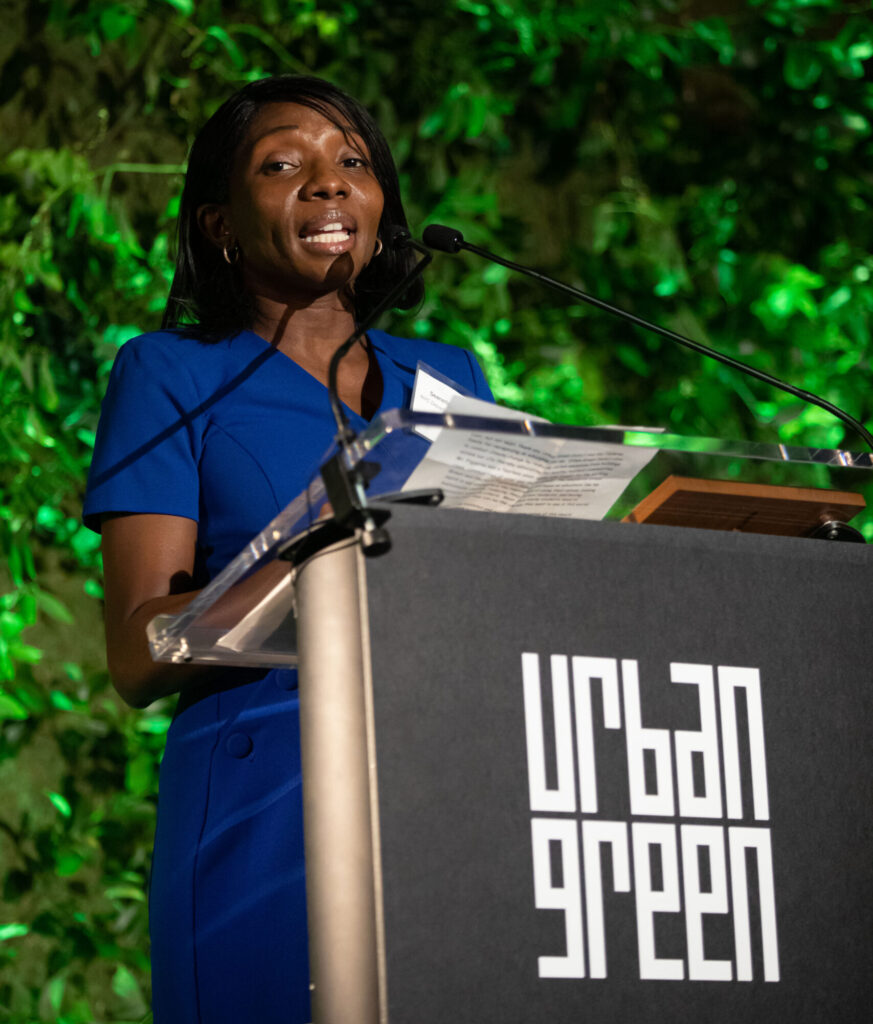 As a middle school science teacher at I.S. 68 in Canarsie for 21 years, Seanelle LeeSang has long understood the grave threat of climate change and the impact it will have on future generations.
With that in mind, Seanelle joined the I.S. 68 Eco Team to infuse environmental education into the curriculum. The team, which Seanelle leads, is comprised of as many as 100 students, and by engaging them in real-world sustainability projects like onsite gardening, plastic, glass and textile recycling, and community hydroponics programs, she has helped educate them about environmental issues.
During the 2021-22 school year, Seanelle, along with Eco Team colleagues and students, participated in the Race Against Waste program. She led students in an investigation of waste in their community and developed a service-learning project to help the community to reduce and reuse fabric waste. Interest in the Eco Team is higher than ever, and Seanelle anticipates strong participation this fall.
Given the success of the Eco Team, Seanelle is now a spokesperson for the UFT's Carbon Free & Healthy Schools Initiative advocating for retrofits of NYCDOE school buildings with modern renewable energy systems. She's also looking forward to the addition of solar panels to power I.S. 68's library in the near future, but knows that more improvements need to be made, such as new, efficient heating and cooling systems for the school.
As a city sustainability champion who educates and inspires future generations, Seanelle exemplifies the spirit of the Héctor Figueroa Leadership Award.
---
2021: Sevdet Kukaj and the SEIU 32BJ team at 117 East 57th St.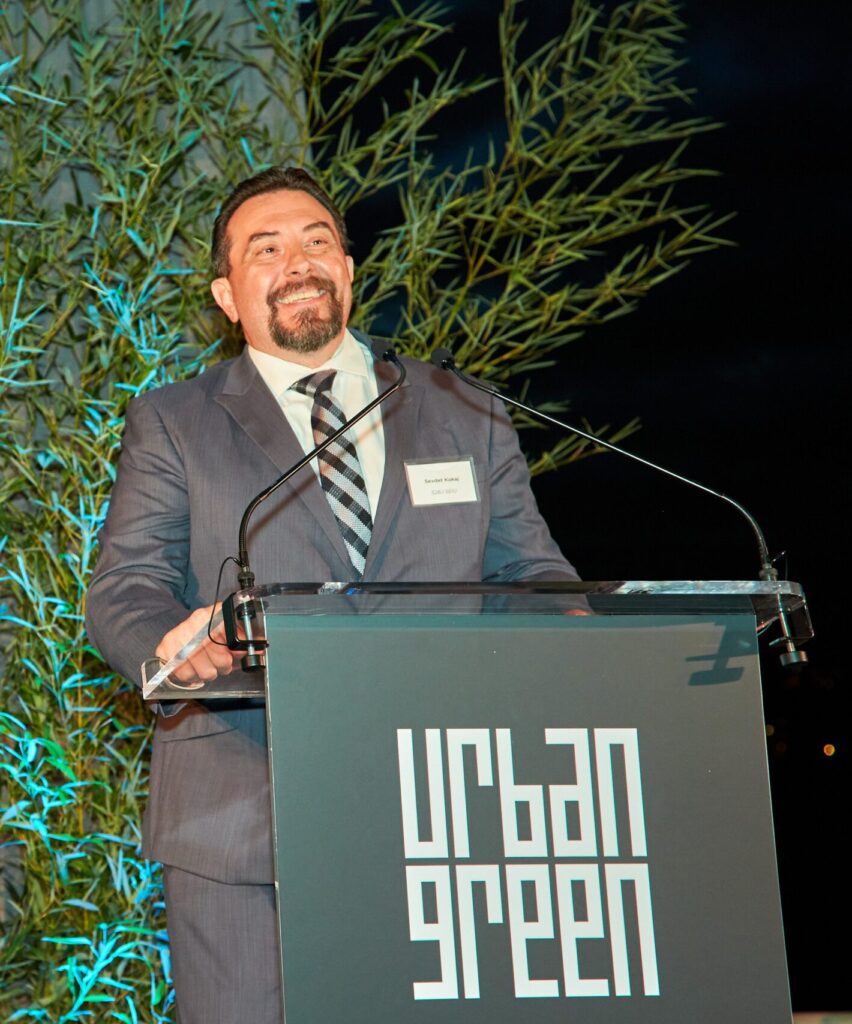 New Yorkers will not soon forget 2020, our year of COVID. We masked up, we quarantined, and we saw friends and family get sick, or worse.
And the incredible sacrifice of frontline workers left an indelible mark, as they cared for us at great risk to themselves.
Such was the case at The Galleria, a full-service condominium building at 117 East 57th Street in Midtown Manhattan.
The SEIU 32BJ team of 35, led by Resident Manager Sevdet "Steve" Kukaj, worked tirelessly to ensure that the building and the tenants experienced no disruption in service and that all COVID health protocols were rigorously maintained. This is particularly impressive given that 75 percent of the staff got COVID over the course of four months. All thankfully survived. Sevdet was one of the last ones to catch COVID.
How did they do it? They came up with a range of creative solutions. Not much was open in the neighborhood, making it hard for the team to get meals. Steve convinced the condominium's Board of Directors to give him a weekly allowance for food, managing the cooking of lasagne and other dishes with the help of his wife. They also got meals from local restaurants for the staff. As VP of the Manhattan Resident Managers club, Steve worked with the club to collect donations from the club's members (mostly 32BJ members) to feed the local first responders—healthcare workers and firefighters to name a few—to keep them fortified as well. Steve also set up a triage center in the Sky Terrace for building staff to eat, relax and sleep over in order to cover more shifts.
According to Steve, everyone was extremely loyal to the building, and "went above and beyond, giving their all." For this reason, Urban Green was delighted to give the first-ever Héctor Figueroa Leadership Award to the team at 117 East 57th Street. They truly embody Héctor's selflessness, generosity and commitment to the common good.
Support our largest fundraising event of the year, and connect with NYC's sustainability community.
A nonprofit dedicated to decarbonizing buildings for healthy and resilient communities.
Join the green building movement in NYC!